Training with teens run every Monday, Tuesday and Thursday.
The program is geared towards improving health and fitness of secondary school-aged students.
During the allocated times, students can come in and train, following their own personalized program,
or join a circuit made up by our qualified personal trainers.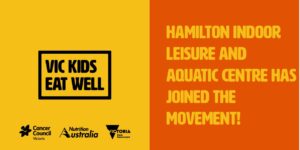 New Cafe' items are available at HILAC!
Being a part of the Vic Kids Eat Well Program, we have upleveled our cafe' menu.
We now offer Sausage rolls, mini pizza's, Soup of the week and even Fruit and granola cups and some new healthy icy pole options!